TAKING INDIAN FOOD TO NEW HEIGHTS
PROVIDING DINE-IN, TAKEAWAY & DELIVERY SERVICE
Welcome to Monsoori Heights in Milford-On-Sea, Lymington, your delectable destination for authentic Indian cuisine. 
Our culinary artisans masterfully blend traditional Indian recipes with a modern twist, delivering an unrivaled dining experience that captures the essence of India's diverse flavors. Step into our restaurant, where beautiful interiors and a soothing atmosphere set the scene for any occasion, be it a romantic dinner, family celebration, or a casual meal with friends. 
For added convenience, we provide a delivery service, ensuring our authentic flavors reach your doorstep. Our dedication to elevating Indian cuisine is encapsulated in our slogan, 'Taking Indian Food To New Heights.' 
Join us on a culinary expedition and discover the heights of Indian flavors at Monsoori Heights.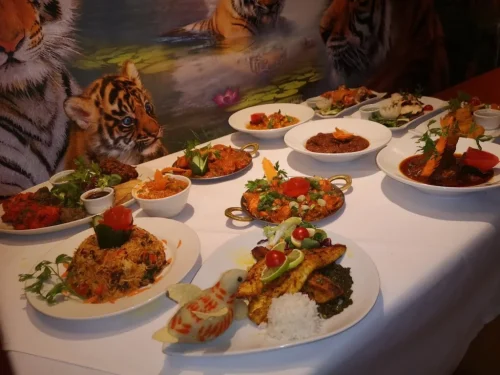 THIS INDIAN IS A HIT WITH THE LOCALS
WHERE YOUR BELLY RULES YOUR MIND
Our Exceptional Team
The heart of Monsoori Heights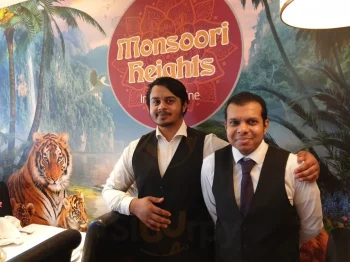 "At Monsoori Heights, our dedicated team is the driving force behind our success. Our masterful chefs create delectable dishes that showcase India's diverse culinary traditions, serving a slice of its rich heritage. 
Our attentive waitstaff ensures a memorable dining experience. We're committed to excellence and invite you to experience our warm hospitality. Join us for a delightful meal, whether it's a romantic dinner, a family celebration, or a casual meal with friends."
CUSTOMERS LOVE MONSOORI HEIGHTS
Excellent food, compliments to the chef. Good portions and very flavoursome. Highly recommend.
The Zombie Hunter Hayes
25/09/2023
Lovely little place. The staff are very charming and welcome you at the door. Shown to our table and offered a personal Aircon unit as it was a particularly hot evening and quite stuffy in the restaurant. The place seemed clean, tidy and well decorated. Service was prompt, although we were there on a Monday evening, and with an unexpected surge of people the food took a long time to arrive between courses. Which of course can't be helped sometimes. The food definitely wasn't lacking in flavour or colour. We both very much enjoyed our dining experience. We will be returning. Would recommend.
Staying at Shorefields Country Park and had a delivery for 4 people plus extras and it was spot on .Thankyou
This place is a little gem with outstanding authentic Indian cuisine. Each dish was presented beautifully with extra care by servers that helped us choose our plates (so glad we went with their suggestions). Starting our meal with two fresh naan breads we were amazed by all the unique flavours and the meat is so delicious and juicy. I recommend gathering family and friends to try as many dishes as possible. Definitely coming back next time I am in New Milton!
Elizabeth Walters
22/08/2023
We stumbled along this restaurant because it was the only one serving food on a late walk through Milford-on-Sea. Thank goodness! It was totally empty, but lovely and cool (which is what we needed on a hot evening), but we were only temporarily fooled by the lack of patrons . The food and service were excellent. Highly recommend.
Definitely the place to visit if you want a curry whilst on holiday near Milford On Sea, the food was very tasty and good size portions.The staff made you very welcome.
Can't rate highly enough, great food, brilliant service, reasonably priced for both food and drinks, highly recommended!!
Lovely lunch! Will certainly be visiting again My Wife & I came here for lunch today & were not disappointed! We received a friendly welcome & were promptly seated, the menu is varied but has all your favourites. We had poppadoms, starters, & a main meal, the food was piping hot, delicious & the portions were generous (it's 19.30 & I'm still not hungry!) We'll definitely be returning!
Amazing food and attentive friendly service We felt so comfortable as soon as we walked in. The staff were lovely, and service was perfect . The drinks and starter were served just right, and the main arrived after just the right resting time . The food was exceptional 👌 thankyou for a lovely evening 😊
Overheerlijke curries Deze curries zijn echt fantastisch! Ik ben fan van butter chicken. Dat hadden ze niet maar ze konden alles maken wat niet op de kaart staat. Ik koos voor een andere gelijksoortige butter chicken. Overheerlijk en de anderen gasten aan de tafel hadden ook allemaal lekkere curries. Bediening erg vriendelijk kortom een echte aanrader
Great atmosphere and lovely setting. This local Indian restaurant really look after their customers. We were a party of 7 celebrating my birthday and their staff were very knowledgeable and attentive. The food is absolutely delicious and they were so kind and caring and made me feel very special. I recommend this wonderful place.
Another Hidden Milford on Sea gem! A great example of the hidden gems that exist in small towns. We have been to many Indian restaurants over the years and this one is right up there. Food choice and quality second to none. We were on holiday for a week and visited twice! Friendly and helpful staff.
Another lovely meal Our good friends big birthday treat, so decided on our favourite Indian restaurant, Monsoori Heights. Always a friendly staff welcome, and a chat with all the waiters. Food was excellent as always, hot, full of flavour and washed down with a couple of pints of cold Cobra. Definitely the best Indian restaurant around this area, if you haven't tried it, you wont be disappointed. Thanks for a great evening, Richard and friends
Delicious meal with a great atmosphere One of the best Indian meals I have eaten, totally delicious and highly recommended. Thank you. Just wish we lived nearby!
*** BOOK YOUR CELEBRATIONS WITH US, ANYWHERE ***
At Monsoori Heights, we're thrilled to announce that we are now taking bookings for your special events and celebrations, both within our restaurant and at locations of your choice. Whether you're planning a birthday, anniversary, corporate gathering, or any other memorable occasion, our team is here to make it extraordinary.
Our dedicated staff is ready to cater to your every need, ensuring that your event is a resounding success. With our authentic Indian cuisine, beautiful ambiance, and impeccable service, your celebration is guaranteed to be a memorable one, whether you choose to host it within our restaurant or at a location of your choice.
Contact us today to reserve your spot and let us create an unforgettable experience for you and your guests. Celebrate with us at Monsoori Heights, where every moment is special, wherever you are.
ON-STREET PARKING AVAILABLE
We are open 7 Days a Week including all public holidays LUNCH 12PM – 2PM, and DINNER 5PM – 11PM. 
If your contact relates to an order or dine-in service you have received, please call us during opening hours, so that we can deal with your query as quickly as possible. If it relates to an order or table reservations you want to place, please use 'ORDER TAKEAWAY' or 'RESERVE A TABLE' buttons on the first instance, alternatively please call us.